Copyright © NETServices US, Inc. 2008 All rights reserved

At NETServices we believe that quality, blended with excellent service, is the foundation for a successful
business. Give a try and find out why Americas top facilities choose NETServices.







Click Any Picture To Enlarge


Jobs currently in progress or pre-construction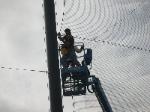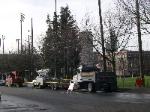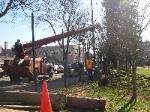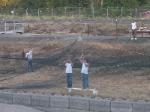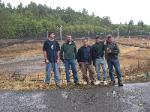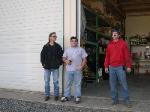 888-365-NETS (6387)

December 2008
Installation of a netting sculpture as a center piece of art at the newly redesigned
Phoenix Civic Space Center. Art and conception by
Janet Echelman
. The sculpture
will suspend nearly 120' in the air on two separate armatures and is over 110' in
diameter.

Phoenix Civic Space
Center
Phoenix, AZ

Landmark Structures
City of Everett
Everett, WA

January 2009
Installation of 60' steel pole golf barrier netting system to protect new above ground
water tank facility.

Seattle Parks & Rec
Seattle, WA

October 2008
Installation of steel pole baseball barrier netting system.

Haydon Building Corp.
City of Tempe
Tempe, AZ

February 2009
Installation of nearly a mile of protective golf netting over a public path.

Cascade Christian HS
Puyallup, WA

October 2008
Installation of 40' steel pole baseball barrier netting system.

Roche Construction
Big League Dreams
Las Vegas, NV

July - August 2009
Installation of nearly 200 steel poles from 20' to 70' and over 500,000 SF of baseball
protective barrier netting.

Olympic Skating Oval
2010 Olympic
Richmond, BC

January 2009
Another netting sculpture project that NETServices is proud to be part of the design
team on for the 2010 Winter Olympics. Located along the perimeter of the new Olympic
Skating Oval in Richmond BC suspended above walkways and ponds it will truly be a
sight to behold. Both this project and the one in Phoenix are truly an international effort
with design team members from Washington, Richmond BC, New York, and as far as
France. Art work and conception again by
Janet Echelman

Manhattan Construction
Dallas Cowboys Stadium
Arlington, TX

December 2008 - April 2009
NETServices has been contracted by Manhattan Construction to install Scrim and bird
netting on the suspended scoreboard at the new Dallas Cowboys Stadium in Arlington,
TX. As part of this state of the art facility, the scoreboard will hold the largest HDTV
system in the world and be the suspended 100' feet in the air. NETServices is proud to
have been chosen to be a part of this project.

PROFESSIONAL NETTING INSTALLATION